Grindin Get Down 2
Check out the video of the event!
Grindin' Get Down 2 Video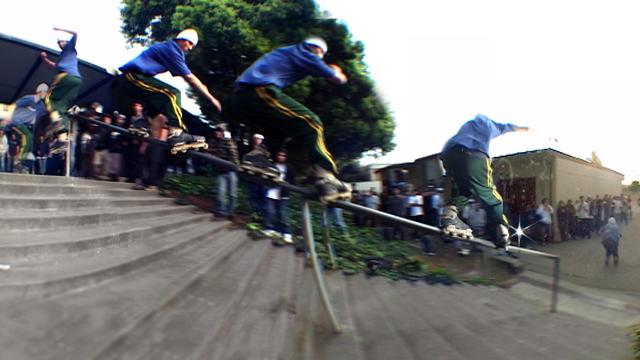 Quinn Feldman - 360 Soul Grind (final spot)
Imagine going out to skate just like you would on a typical sunny Saturday afternoon, but instead of just one or two of your friends showing up a group of about 50 skaters is at each spot. Imagine a session with about 50 people you've never skated with and spend the whole day driving and skating every spot in the area. That's the feeling that you get when you goto street competitions. I really don't know any better words that have been used to describe street contests other than Donny Garcia and Joe Ison from R-Society — "It's really just kinda fun stuff" and "It's basically a big session — just kick it with people that you don't usually hang out with".
Saturday, March 4th's Grindin Get Down competition was the perfect example of this type of energy, skate session and just plain fun stuff. The competition was organized and held by Vinny Minton and Ivan Narez — the duo that's also responsible for the Hyphy and Hyphy 2 skate videos filled with as much fighting and craziness as skating. The competition started at about 12pm, but before anything could really start it all came to an abrupt end. The skate park in Antioch, CA decided that such a large gathering of kids (many without helmets) didn't belong there so we were kicked out to the streets to have the competition.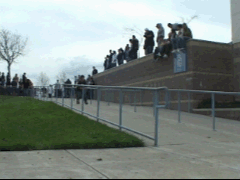 Shawn Storm - Switchup
On to the second spot — or first spot — depending on your point of view, the
Deer Valley High School
in Antioch — directly across from the skatepark! What a lucky group of kids! Anyway, this was actually a crazy way to open the competition. A long and only slightly downhill rail with a short kink half way down. This is one of those, "why are these rails even here?" types of things. So, the session went down for maybe 30 minutes until 2 cop cars showed up. A lot of cool tricks were thrown down and Quinn Feldman made an early impression along with several of the other skaters. Shawn Storm pulled off some crazy combos too — see the clip.
The next spot was the gas station and convenience store.
Then I drove on to the real next spot — the white ledges in Pittsburg, CA. These ledges were pretty crazy for a simple ledge down a set of stairs. No part of these things was left untouched and it's really undescribable with words — the video edit will be up soon! The next spot was a big rail that hasn't been in videos before. This rail really helped to set up the scene for the final spot and eliminate people from the competition. Only a select few people really stood out, once again including Quinn.
The final spot was a fat rail at Antioch High School. This rail is where Quinn laced the 360 Soul shown above, but so many skaters were throwing down crazy stuff. James St. Ours threw down a disaster topsoul and went for other attempts at what I think was a disaster fishbrain, but didn't get it. All the skaters that came out really pushed themselves to the limit and everyone deserved to win, but Quinn had some consistancy in just about everything he did that shined through despite not having the most switchups.
In the end, Quinn Feldman took first, Shawn Oberg took second and Derek Kennedy took third. Congrats to all the winners and special thanks to Vinny, Ivan, the sponsors and all the kids that came out to the comp. Look for the Havenskate.com video edit coming soon. Peace.
-Jeff
Related Video: Grindin' Get Down 2 Video Edit